Arriving at the decision that your relationship is at an end, is undoubtedly one of the most difficult ones you will make. Embarking on this process is not easy but once you obtain specialised professional advice the path ahead becomes clearer.  The first step is to ensure that you receive advice from a professional specialising in the area of family law.
Our Family Law Solicitors in Cork and Dublin understand the difficulties in the break-down of any relationship. We believe that our ability to communicate with our clients with clear and straightforward thinking sets us apart from others. This is complemented with our sound judgement and our firm but fair negotiating skills. We focus on narrowing the issues and achieving a collaborative resolution where possible, to find a solution that is best for you and your family.
We represent clients in all Courts from the District Court to the Supreme Court. Our Solicitors are trained mediators and advocates.
Our advice is realistic in terms of likely outcomes, timelines and costs, so that our clients are always fully informed as to what is happening with their case.
In 2021, 2022 and again in 2023, Karen won Munster Family Lawyer of the Year at the Irish Law Awards as well as winning overall National Family Lawyer of the Year Award 2023.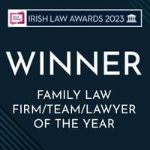 "Karen, I often think of how you handled my case, especially when I would send you an email that would be quite emotional. You would read it or listen to me on a phone call, be very empathetic and understanding, and would then tend to the email professionally without the emotion to the other side. I would highly recommend you. Thank you for all you did for me, I am eternally grateful."