Alternative Dispute Resolution and Mediation
At CKT we recognise that a legal dispute can be a stressful time for all involved. Our team considers Alternative Dispute Resolution (ADR) at every step of the way ensuring that your dispute is resolved in the most cost and time effective route to reach the desired result. In 2022, CKT won the award for ADR Firm of the Year at the Irish Law Awards. 
There are a number of reasons why CKT might advise clients to use ADR rather than having a case heard in court. These include:
Privacy: The meetings involved in arbitration, mediation or other ADR methods take place in private rather than in open court.
Cost: The Cost of ADR is usually significantly lower than the cost of litigation.
Speed: There is no need to wait for a Court date – many disputes are resolved within weeks or even days.
Control: The parties involved in a dispute have more control over the process and are in a position to ensure that their dispute is dealt with promptly and on their own terms.
CKT prides itself on the fact that most partners on the litigation team are CEDR Accredited Mediators.
Our solicitor mediators are the most sought-after in the country for complex disputes. We find solutions and creative ways in which to resolve matters in a private and cost-effective manner for our clients. Given our track record, we are also frequently asked to act as mediators in third-party disputes.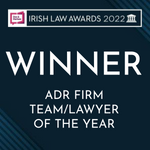 "Ability to apply practical solutions to complex problems"
"Clear thinking strategy application to reduce conflict and litigation."