July 7, 2021
Posted by:

granitewordpress

Category:

News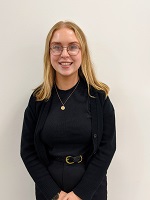 Tell us a little bit about yourself before you arrived at CKT? Where did you study? What are your hobbies?
I'm from Kerry and live near Dingle. I studied Law in UCC and graduated in 2018 before moving to Toronto where I worked as an IT recruiter. I came back to Ireland after the summer of 2019 and began an LLM in International Migration and Refugee Law which I completed in 2020. Living so close to the sea at home, swimming is a huge hobby of mine and I trained to be a lifeguard before college.
How did you get your current internship position?
I applied for an internship with CKT after sitting my first round of FE1's last October. Unfortunately, they had no openings at the time. However, they then contacted me in the new year when a position became available in their Dublin office! I worked as an intern in the Dublin office for four months before beginning an internship in the Cork office in June.
What does a typical day in the office look like for you?
A huge reason I enjoy working at CKT so much is that no two days are the same. You gain experience in a broad range of areas from analysing CCTV footage to drafting documents. My day usually consists of drafting case updates, drafting documents and carrying out research as well as any surprise jobs that pop up!
What do you most admire about your colleagues?
One of the main things I admire about my colleagues is their enthusiasm when it comes to passing on their knowledge. They really take the time to give you an insight into the variety of work solicitors and legal secretaries do on a day-to-day basis. They don't hesitate to give you challenging jobs so that you can really expand your knowledge.
What has been your favourite part of your time at CKT to date?
It's difficult to choose one particular part from such an overall enjoyable experience but a huge highlight was definitely attending the UCC Women in Law forum in which CKT Partner Denise Kirwan was speaking. CKT is so well represented by female partners so it was great to hear Denise give her insights into the pathways women can take within the legal sphere.
Is there any advice that you would give university students looking for internships?
My main piece of advice is to take the time to make sure that the firm is a good fit for you personally, instead of applying for every role that you see. It's important to be interested in the work you're doing.
Mary Maunsell, Intern, CKT
For more information about our internship programme, click here.