Karen represents clients primarily in the area of family law. In 2021 and again in 2022, Karen won Munster Family Lawyer of the Year at the Irish Law Awards. 
Karen's family law experience focuses on divorce, judicial separation, civil partnership, nullity, surrogacy, custody and access disputes, maintenance and domestic violence disputes in contentious and non-contentious matters.  
In addition to Karen's work in family law, she is a trusted advisor in the area of personal injury in both defence and plaintiff litigation representing parties at all court levels.  
Karen is also an Accredited Mediator with the Mediator's Institute of Ireland (MII). This has further enhanced her skills and she is a firm believer in 'outside the courtroom' settlement. Karen will always endeavour to engage with the solicitor acting for the other party to see if a compromise can be reached. Karen's focus on compromise is inevitably the best solution for clients as they have an element of control over the outcome.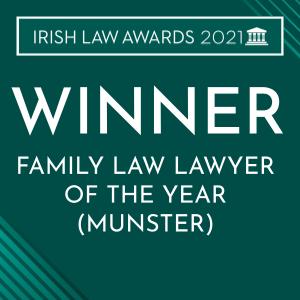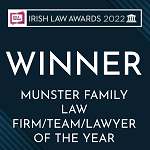 Alternative Dispute Resolution
Family Law
Mediation
BCL, University College Cork

Certificate in Human Resources, CIPD

Winner, Munster Family Lawyer of the year 2021, Irish Law Awards

Member of the Roll of Solicitors, Law Society of Ireland 

Member of the Southern Law Association 

Committee member, Cork Family Lawyers' Association
"Karen, I often think of how you handled my case, especially when I would send you an email that would be quite emotional. You would read it or listen to me on a phone call, be very empathetic and understanding, and would then tend to the email professionally without the emotion to the other side. I would highly recommend you. Thank you for all you did for me, I am eternally grateful."